School visits:
I'd love to visit your school!
I can work with individual classes, combined classes, or whole school / Key Stage assemblies.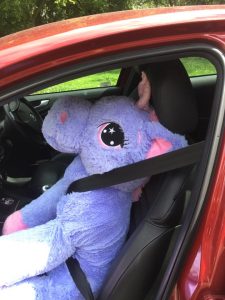 The sessions are an enthusiastic celebration of reading, writing and books! I'll read my stories, displaying the illustrators' brilliant artwork via projector or whiteboard. I'll talk about the stories behind the stories, how a story works, and what it's like being an author. I'll encourage the children to think of themselves as writers and have confidence in their creativity. Questions are very welcome (one of my favourites so far was 'Why are your earrings so big?').
I can also talk about the process of turning an idea into a finished book – and how that book gets out into the world, showing samples of a manuscript, roughs, colour proofs and co-editions.
We'll probably wave our tentacles and sing the Octopants song. We might play Unicorn Club musical statues (with rosette stickers all round). We may even do imaginary baking with my boxful of wooden spoons, or rummage in the bag of story prompts for new ideas. Whichever we do, we'll definitely have fun.
Signed books will be available – either as a signing session, or signed in a break ready to distribute – whichever you prefer. I will provide an advance order form to send home, to keep things as tidy as possible!
Sessions are ideal for KS1 and lower KS2, with shorter sessions available for Nursery and Reception classes. Just drop me a line to discuss the ideal visit for your school!
Prices start from £250 for full school days, £150 for half days.
Travel expenses are inclusive within 30 miles. Longer journeys may cost extra, but would be agreed before booking.
I also hold professional public liability insurance.
Bookshops, libraries, and festivals:

Please don't hesitate to get in touch – I'd love to discuss potential events!